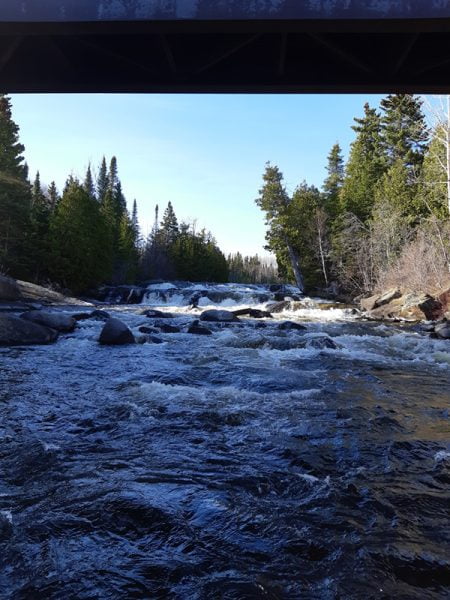 Grab a paddle and hit one of Canada's most popular whitewater rafting destinations for pulse-quickening excitement on the topsy-turvy currents of the Ottawa River. Two different but equally exhilarating channels run through an 18 km (11 mi.) stretch of frothy, swirling water in the scenic Rocher Fendue Basin between Ottawa and Pembroke.
Boasting Class III and IV rapids, the biggest whitewaters east of the Rockies will put your skill to the test. Experienced paddlers will find their thrills in the roaring waters and towering waves of the main channel.
Paddle through daredevil sections with names like Hell's Half Mile, Lemming's Leap and Butcher's Knife. On the gentler rapids of the middle channel, the waters beckon bodysurfers to dive in for a spin. And for those who prefer milder whitewater adventure, the Madawaska River is perfect for guided family-float trips or for learning the art of whitewater canoeing and kayaking.
Several outfitters offer a variety of rafting excursions, from half-day to two-day trips with accommodation for groups of six or twelve and even for families with children. Many offer excursions where you get to sit back and leave the steering to your guide. No matter what your skill or thrill level may be, you'll find outstanding whitewater adventure in Ontario.
The beauty of the Ottawa is its size. Big rapids and warm water all summer combine to make the Ottawa Canada's top rafting and kayaking destination.
Running through an island paradise of 175 islands, the Ottawa boasts rapids, waterfalls, sandy beaches and spectacular rock formations all in isolated splendor. This whitewater archipelago features a variety of paddling challenges with two exciting and very different channels.
The Ottawa's MAIN CHANNEL is a straight forward rock 'em, sock 'em BIG WATER run. You'll challenge the MAIN's towering waves and giant hydraulics in rugged 12 person rafts with an experienced guide at the helm. It's a fantastic team building opportunity as you tackle the biggest whitewater east of the Colorado.
The tight and technical MIDDLE CHANNEL is an ideal setting for Canada's premier "Guide Your Own Raft" experience. You'll have the time of your life as you zig and zag down this challenging run under the watchful supervision of skilled and personable kayak guides. Come and play in Ontario; incredible scenery and amazing thrills.
Learn more about whitewater rafting! 
---
For Whitewatrer Rafting and More in Northern Ontario,
Try Our Plan Your Vacation Tool.
---