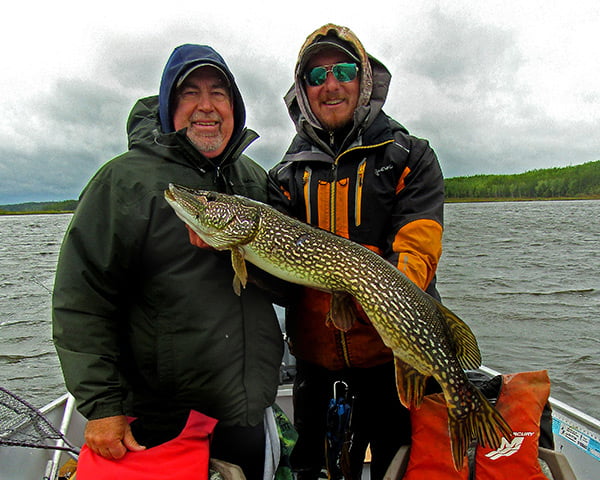 Muskie and pike fishing here has likely never been better. Progressive regulations, improved environmental controls, and catch-and-release regulations have combined to build muskie and pike populations up to or past historical highs.
Visiting anglers targeting muskie and pike can stay at lodges specializing in these species. They'll be able to point you in the right direction to catch fish, and they can often supply knowledgeable guides who can teach even veterans new tricks, provide gear, and offer a better-than-average chance at landing a lunker.
Ontario's muskie and pike fisheries can be divided roughly into two groups: quantity or quality. Quantity water offers lots of action and a chance at trophy muskie of 30 to 35 pounds (13.6 to 16 kg) and pike up to 15 pounds (6.8 kg). Quality waterbodies give anglers a legitimate shot at muskie over 50 pounds (22.7) and pike up to 30 pounds (13.6 kg). Questioning guides and outfitters can help you fine-tune your choice of fishing experience.
Late June into early July, and September through October, are peak muskie times. Begin the season casting bucktails, spinnerbaits, and jerkbaits around weedlines, bays, points, or shoals. Early-summer weather conditions can vary. Bring shorts, sun block, bug repellent, a rain suit, and sweaters to adapt to daily conditions.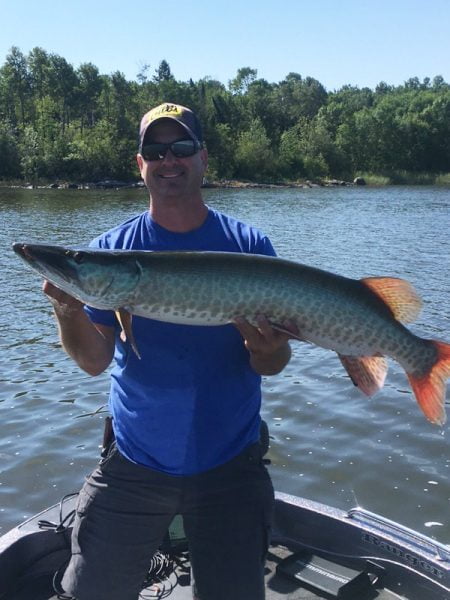 In fall, cast or troll large crankbaits, jerkbaits, and oversized bucktails and spinnerbaits around windswept points, islands, and shoals adjacent to deep water. Expect cool to cold fishing conditions. Fingerless gloves, warm boots, hats, and layered clothing are musts. The weather might be unpredictable, but fall is often when the biggest fish of the year are landed.
To target trophy pike, fish deep lakes and river systems in the few weeks after ice-out or in September and October. Spring anglers should cast medium-sized spoons, spinners, and jerkbaits in shallow bays or at rivermouths near spawning habitat. Fall anglers should cast or troll large crankbaits, spoons, and spinners near drop-offs, deep weedlines, and reefs adjacent to deep water.
Visiting anglers should bring 6- to 7-foot heavy-action bait casting rods, with sturdy reels loaded with 20-pound-plus mono, Dacron, or super braids. Strong, 12-inch or longer steel leaders are musts to prevent bite-offs.
Popular lure colours and patterns in Ontario are bright orange and black, sucker, perch, bumblebee, firetiger, white, black, chartreuse, and combinations of these.
Plan ahead. Your chances at landing lunker pike and muskie are good in Ontario. Consider releasing them to thrill another angler. Handle them with care and respect. Be sure to bring proper release tools, such as landing cradles, fish-handling gloves, jaw-spreaders, pliers, and bolt-cutters to snip off deeply imbedded hooks at their bends. Perhaps you'll tangle with the fish on another trip when it has grown even larger and made many more fish nervous of its shadowy figure in the weeds or along a shoal drop-off.
---
Looking to Plan Your Next Fishing Adventure?
Try Our Plan Your Vacation Tool.
---