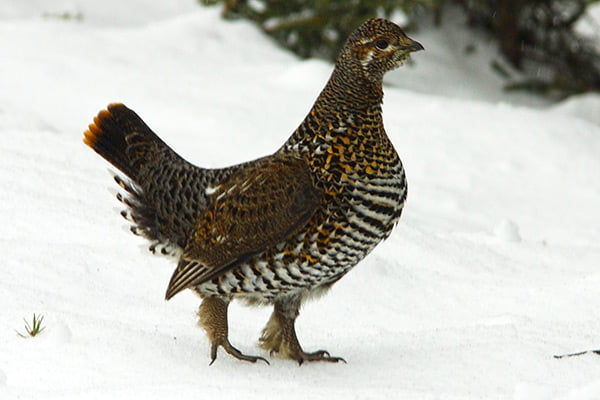 Whether it's the eruption of a woodcock or a ruffed grouse at your feet, or the frozen silhouette of a conifer-perched spruce grouse, Ontario has it all. It's a prime selection, administered by a vast wilderness in autumn disguise. Infused with the aroma of frost-ripened leaves, Ontario delivers strong medicine for the upland hunter.
Draw a bead virtually anywhere in the province. The diversity in climate and terrain is reflected in a choice selection of upland game birds. Within a rich terrestrial fabric rests opportunities for wildfowl, from the ptarmigan of the northern tundra to stately sharp-tailed grouse.
The diminutive woodcock is an explosive bird that enjoys a relatively undisturbed period during the Ontario leg of its migration. Woodcock forage worms from moist ground until persistent hard frost drives them south. A dog and hunter duo is the most effective means of bagging timberdoodles, with pointing breeds providing advanced warning of alarmed birds poised to erupt from heavy cover.
Even without a canine companion, walking the perimeter of wetlands stirs up plenty of birds. Carry a 20-gauge in ready position to draw quickly on tight-breaking birds. These long-beaked fowl hold their ground until the last second, making 7 1/2 or 9 shot fired through an improved cylinder or open choke a good combination for close range and tight quarters.
Ruffed grouse are common. They grow skittish quickly under hunting pressure, but a good bird dog or flushing dog helps hunters to connect.
The key to stirring up numbers of ruffies is to use natural features to guide you to them, but don't ignore old logging roads. Walk the circumference of swamps and lakes or along creeks and rivers. Follow eskers, ridges, and the base of hills or mountains. Check transitional zones between upland hardwood stands and pine, spruce, alder, and cedar lowlands. Probe deeper into lowland cover at the start and end of the day, when birds are near their roosts in coniferous cover.
In remote areas, the most challenging part of a wing shot is getting birds to fly. Dogs help to roust semi-tame ruffed grouse or hunters can find a challenge in sharp shooting with a small calibre rifle, where regulations permit, or drawing a bow armed with bird points on standing or perched fowl.
Spruce grouse are perfect candidates for such methods, due to their marked preference for walking over flying. Distinguished by dark plumage accented by a splash of red above the eye, they favour coniferous forests peppered with small openings and can be abundant in sandy replanted areas.
The province has a mix of road-accessible uplands and remote wilderness, as well as experienced outfitters to guide your hunt. They'll provide anything from trip-planning expertise to complete hunting packages throughout Ontario, where the birds are as stirring as the landscape.
---
To Find Your Perfect Hunt,
Try Our Plan Your Vacation Tool.
---