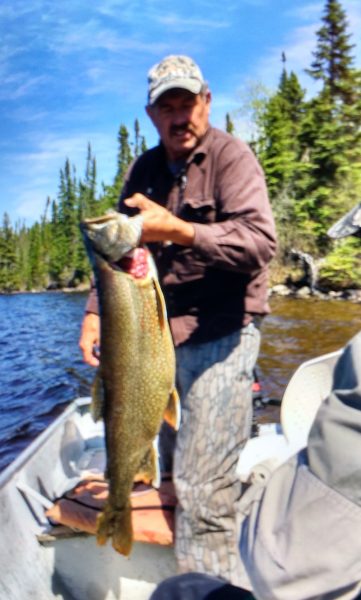 It's no accident that the 14.5-pound (6.58 kg) world-record brook trout came from Ontario, and in some waters 20-pound (9 kg) lake trout fail to raise an eyebrow. The water-dappled land is rich in trout fisheries naturally suited to growing large trout in abundance.
Brook trout in lakes are particularly active spring and early fall, when cool temperatures see them cruising the shoreline. Look for brookies in water less than 10 feet deep, near cover like overhanging trees, submerged wood, and rocky structure associated with points and shoals. Troll the shoreline or cast to cover. As waters warm, brook trout move deeper and become harder to find. In cold, swift-flowing rivers, they remain in aerated pools at the base of falls and rapids throughout summer.
A hook and split shot is a simple, effective combination when tipped with a worm, leech, or minnow. Brookies smash artificial lures too, like small to mid-sized spoons, bucktail-dressed spinners, or minnow baits up to 4 inches in length. Bright finishes, such as silver and gold – accented with blue, green, and red – are reliable. A spinning reel, 4- to 8-pound-test line, and a light-action 6-foot rod will handle anything from pan-sized keepers to 6-pound trophies.
Perhaps the brook trout's most endearing quality is a willingness to take flies. It feeds heavily on insects and will rise for dry flies, as well as inhale nymph and minnow imitations beneath the surface.
Lake trout prefer cold, deep lakes. After ice-out they feed near the surface, but move progressively deeper as waters warm. Throughout summer, wire line or downriggers are needed to connect with fish congregating near bottom anywhere from 40 to more than 100 feet down. On calm days, jigging vertically with heavy spoons or jigs can also take greys. Watch your fish finder for humps, shoals, and drop-offs within the lake trout's comfort zone (about 50 °F). Fish around them. For trolling, Try big spoons, 3 to 7-inch minnow-shaped plugs, crankbaits, peanut-sized plugs, or dodger and fly combinations. Silver and gold are traditional favourites, and green, blue, and white accents trigger more strikes.
A medium-action spinning outfit with 8-pound-test line is fine for lakers under 10 pounds (4.54 kg), but sway-bellied greys over 20 pounds (9 kg) call for stout downrigger rods and level-wind reels spooled with 12- to 20-pound line.
Road-accessible waters mean anglers can administer their trout fix at drive-to lodges, or fly in to remote locations. Either option ensures you'll be casting into the fabled waters of Ontario – the only reliable way to truly scratch that trout-fishing itch.
---
To Plan Your Next Fishing Adventure,
Use Our Plan Your Vacation Tool.
---