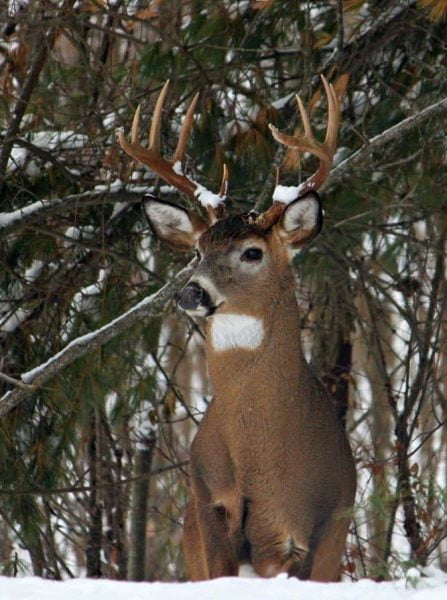 Right now, a massive white-tailed buck is skirting the edge of a southern-Ontario farm field. Another is blunting his hooves as he walks along a shield-country ridge amid 100-year-old oak and Jack pines. Still another is peering out through a tangle of black spruce overlooking a logging road in the northwestern edge of the province.
Although each has a different home range and habitat, they have one thing in common. This fall, they'll carry their heavy set of polished antlers proudly through the north woods, challenging all rivals.
Ontario's deer are big. Their northern range runs through a province known for deep snow and cold. Deer need large bodies to survive in these conditions. Antler growth follows suit. The current Ontario records, a 189 1/8-scoring typical buck shot near Parry Sound, and a 250 1/8-scoring non-typical bruit taken in Rainy River district, prove Ontario's ability to grow monster bucks. Mild winters and great nutrition in recent years have meant that more bucks have survived the long winter, grown bigger racks, and extended their range. Now is simply the best opportunity to hunt deer in Ontario.
Hunting with an outfitter or guide is an advantage for any visitor to Ontario. The outfitter will know the location of the highest deer concentrations and will take care of accommodations, so you can concentrate on hunting.
Deer-hunting settings in Ontario can be divided into farm country and big woods. Farm-country hunters concentrate on woodlots and creek bottoms near agricultural fields. Most hunt from tree stands or ground blinds near trails, rubs, scraps, feeding areas, or by using drives to push deer to waiting standers. Big-woods hunters use these same techniques in deer funnels and logging cuts, but also incorporate still-hunting and tracking into their bag of tricks. In some wildlife management units in central and northern Ontario, hunters may use licensed dogs to help move deer toward standers, which has become a tradition for many deer camps. You can hunt anyway you want in Ontario by simply picking the appropriate area and an outfitter that accommodates your style.
Choose equipment carefully for an Ontario deer hunt. Autumn temperatures can fall well below freezing and snow is always a possibility. Warm footwear, hats, and layered clothing topped with a wool or fleece shell is vital to enjoy your hunt.
Depending on the location and provincial regulations, hunters should use firearms suitable for large deer. Rifle calibres of .270, 30/30, .308, 30-06, and 7 mm are popular, while 12-gauge shotguns and .50 calibre muzzloaders are good choices where centrefire rifles are prohibited. Bows must have draw weights of at least 39.9 pounds, have an arrow length of 23.6 inches, and have a broadhead with two sharp, unserrated, barbless straight steel blades at least .87 inches at the widest point to be legal to use for deer hunting in Ontario. Always check the hunting regulations while planning your trip.
Whichever way you choose to hunt Ontario's whitetails, be ready for excitement.
---
Looking For Your Perfect Spot to Hunt in Northern Ontario?
Try Our Plan Your Vacation Tool.
---