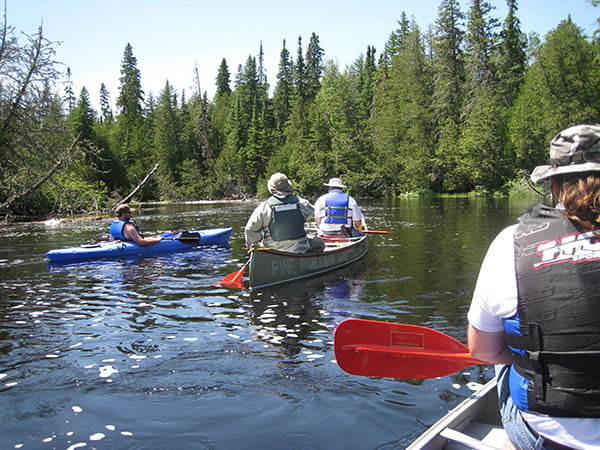 Paddling in the 21st century has come a long way from the 'roughing-it' canoe trips of yesteryear.
As recently as the 1970s, a wilderness canoe trip was considered to be an adventure where enduring the hardships was all part of the experience – primitive stoves, freeze-dried dinners, canvas tents with no floors, heavy packs and even heavier canoes.
Advances in technology have had an impact on canoeing and kayaking in the wilderness.
Backpacks are ergonomically designed and made from breathable lightweight material. Therma rest mattresses give you a good night's sleep, then roll up to virtually nothing. Light tents designed for mountaineering expeditions can be found in every outdoor store. Efficient and powerful stoves can cook a gourmet meal as fast as you could in the kitchen at home. Satellite phones, SPOT devices and GPS make wilderness adventures safer.
Early explorers and the voyageurs paddled vessels made from birch bark, kept warm with animal pelts, ate what they caught from the wild and kept bugs away by smearing their bodies with mud.
Today, a canoe or kayak experience with one of Ontario's Outfitters brings luxury and convenience to new levels. In fact, many operate their own retail outlets to complement their expedition business, making them experts in the field of equipment.
Here's just a partial list of the equipment designed to make canoe and kayak vacations more convenient and comfortable:
Transportation
Lightweight and resilient canoes and kayaks made from materials like Kevlar, hybrid carbon or vulcanized abs plastic
More ergonomic designs
Kayaks designed to suit different body types
Accommodation
Freestanding lightweight tents based on models developed for extreme conditions
Thermo Rest sleeping pads that offer full-length mattress comfort
Sleeping bags that are lightweight, warm, breathable and quick drying
Nourishment
Variety of advanced technology stoves that are small, lightweight and fuel-efficient
Kitchen utensils, gear and storage containers that make meal preparation easy
More emphasis on quality food
Comfort and Convenience
Foldable armchairs kayak
Comfortable and ergonomically designed backpacks
Convenient and waterproof barrel packs
Clothing to keep you warm and dry. Modern materials are breathable and designed to be worn in layers.
Footwear designed to suit the terrain and activity
Safety and Security
Solar powered equipment
Lights
GPS devices
Satellite and cellular telephones