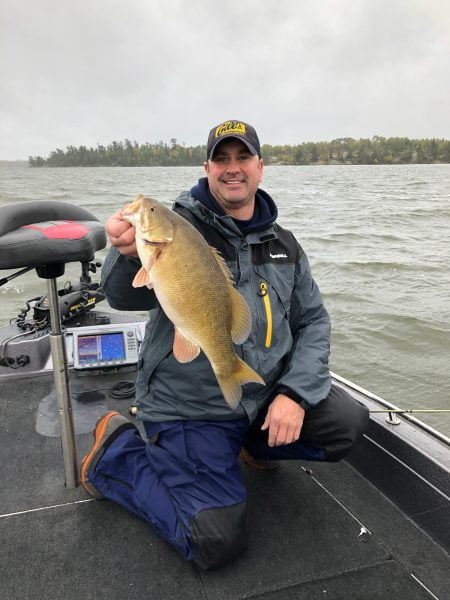 Nature could not have designed a better game fish than smallmouth bass. They're like 10 dynamite sticks stuffed into a football. Light the fuse and get ready for serious fireworks. When you hook up with a brown bass, you're likely to witness jumps, flips, and power dives. The second run is even better. It's no wonder so many anglers have become obsessed with them.
Ontario is justifiably famous for great smallmouth fishing. From Kenora to the Kawarthas, Quetico Park to Rainy Lake, and the southern Great Lakes, bronzeback fishing simply doesn't get any better. The average smallmouth approaches 3 pounds (1.36 kg), but lunkers topping 6 pounds (2.27 kg) are caught frequently. The provincial record is a rotund 9.84-pounder (4.46 kg) from Birch Bark Lake near Kinmount. Many anglers think the province is ripe for a new provincial smallmouth record. The question is where. Some feel it will be caught in Lake Erie or Lake Simcoe. Those in the north are talking about Rainy Lake or Lac Seul. Time will tell.
While smallmouth are the bread-and-butter bass of Ontario, don't overlook the great largemouth fishing. They can be caught from most southern-Ontario waters and in portions of the northwest. Ontario's largemouth grow big as well, with many fish each year topping the 6-pound (2.7 kg) mark. The record is 10.43-pounder (4.73 kg) from Preston Lake just north of Toronto.
Bass fishing in Ontario can be as simple or as complicated as you want to make it. Many anglers chase these fish with high-speed boats and an arsenal of rods. Yet, every year, some of the largest bass of both species are caught right off docks with a red and white bobber and a single hook and worm for bait. Bass are equal-opportunity biters. They don't care what you're driving or wearing. Just show them something they want to eat.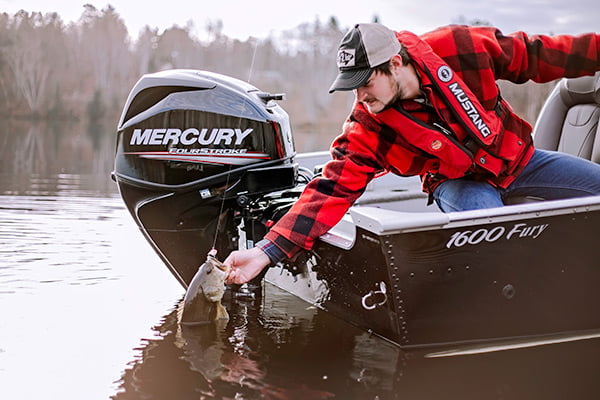 For Ontario bass, bring an assortment of lures for a variety of situations. Plastic grubs, tubes, worms, and shads are deadly fished on jigs or rigs. A hot tactic for wary smallmouth in Ontario's big, clear lakes has been to simply cast out a crayfish-coloured tube jig and drag it along bottom on a long line from a drifting boat. Smoke-coloured twister-tail grubs on black jig heads are also sure to interest our bronzebacks.
Look for trophy smallmouth bass to be on the "spot on the spot." Key areas to focus on include large boulders on the top of a reef, or a single deadhead in a weedy bay. Even rocks piled up at the water intake of a cottage will hold bass.
Spinnerbaits are another great choice for both large- and smallmouth bass. A selection of crankbaits, including the Shad Rap, Cordell Ripplin' Redfin, and Smithwick Rogue, are just a few more lures that entice our aggressive fish. And, on a calm day, top water plugs like the Storm Chug Bug, Rapala Skitter Walk, and Heddon Jitterbug provide some of the greatest thrills bass fishing has to offer. Throw in a handful of in-line spinners, such as the Mepps Aglia or Panther Martin, and you're in business.
Bring your personal choice of bass gear, whether it be spinning or baitcasting rods and reels., but keep in mind that smallmouth are great candidates for medium-light spinning gear. They're usually found in more open water than are weed- and cover-loving largemouths. And, if you like fly fishing, also keep in mind that our smallmouth are suckers for topwater poppers and streamers alike.
If bass fishing makes your heart beat faster, you'll find the ultimate pacemaker in Ontario. Just make sure you don't overdo the old ticker when a big bronzeback hits the air or an old bucketmouth heads for the pads, straining you and your tackle to their limits.
---
For Bass Fishing and More in Northern Ontario,
Try Our Plan Your Vacation Tool.
---