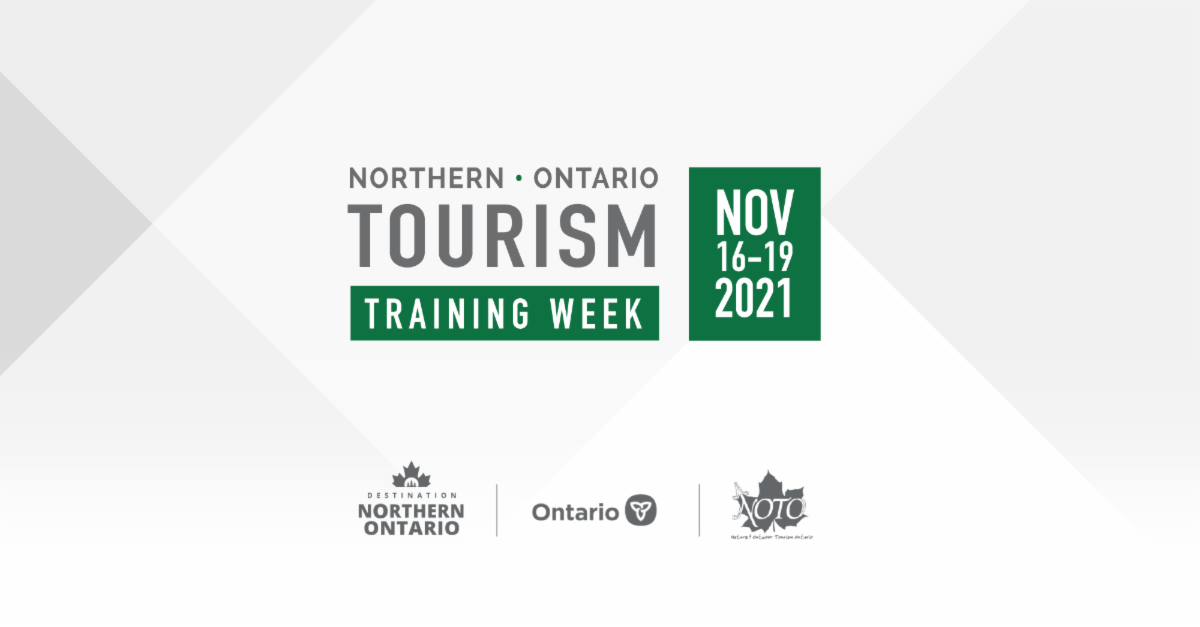 Join us virtually this year for our Northern Ontario Tourism Training Week!
How do I register for each Training Session?


STEP 1 – REGISTER for Northern Ontario Tourism Training Week!
STEP 2 – Once registered, open your registration confirmation email and start building your schedule!
STEP 3 – Click on 'Agenda' in the left-hand side menu. Register for each session individually by clicking on the 'Register Now' button.
Note: Clicking 'Add to Schedule' does not register you for the session, only the 'Register Now' button does.
STEP 4 – Once you have registered for an individual session, you will receive an email from GoToWebinar with a link to that session. If you have registered for multiple sessions, you will receive multiple GoToWebinar emails.
STEP 5 – Click the link in each GoToWebinar email to join that session, at the specified time and date.
STEP 6 – Enjoy your training session!

Joining From A Mobile Device?


STEP 1 – Download the EventMobi app from the iPhone or Android app store.
STEP 2 – Launch the app and enter the unique event code: "nottw2021"
STEP 3 – Use the app to access event information and build your schedule! Remember: Clicking 'Add to Schedule' does not register you for the session, only the 'Register Now' button does.


Don't have a phone? The app can also be found on the web using this URL: dno.swoogo.com/nottw2021/
For any questions please contact: communications@destinationnorthernontario.ca


Workshop Highlights


Keynote Speaker: Dr. Karyn Gordon
Leadership and Relationship Expert | Maximizing Performance
Date: Tuesday, Nov. 16, 2021
Time: 1:00 p.m. EST
Dr. Karyn Gordon's purpose is to develop great leaders who drive success both at home and work. A bestselling author and media personality, Gordon has delivered over 1000 keynotes to more than 500 million people across 17 countries — including Fortune 500 companies, entrepreneurs, and government agencies. She draws on her extensive research into leadership, relationships, and emotional intelligence to help audiences foster the skills needed to lead in the 21st century.

Gordon is currently the founder and CEO of DK Leadership, a global leadership coaching company specializing in emotional intelligence skills for organizations and families. Known for her expertise, Gordon is often featured in national media outlets and is currently the leadership and relationship expert on Canada's #1 daytime show Cityline. She has previously worked with Good Morning America, Forbes, and The New York Times. Her upcoming book, titled The Three Chairs: How Great Leaders Drive Their Teams' Communication, Productivity, and Engagement, will be released in 2021.
Gordon has a bachelor's in psychology, a master's in counseling, and a doctorate in marriage and family. She has also completed several specialty leadership certifications with extensive research into generational differences, leadership, and emotional intelligence.
Becoming the World's Best Snowmobile Destination – Snowmobile Friendliness Series
Date: Tuesday, Nov. 16, 2021
Time: 11:00 a.m. EST

Do you speak snowmobile? Do you offer 2-stroke coffee for guests in the morning? Do you have lots of hooks in rooms to hang wet gear? Learn about these and other simple tips and tricks to become super snowmobile friendly this season. Brought to you by the World's Best Snowmobile Destination project.
Algoma Special Edition "Spark" Program – Finalists' Pitch Session
Date: Friday, Nov. 19, 2021
Time: 1:00 p.m. EST

Six "Spark" Program finalists from across Northern Ontario will pitch ideas on how they would re-imagine or expand their tourism business to a panel of judges at a "Dragon's Den"-style session. Three winners will be selected to receive a $3000 grant, mentorship plus additional partner support valued at up to $9,500.

Pitch Session Judge Panel:

Sara Dekker, Destination Northern Ontario
Heather Bot, Algoma Country
Travis Anderson, Tourism SSM
Tourism Innovator/Entrepreneur – TBA
Inspiring New Francophone Canadians Through Innovative Tourism Experiences
Date: Thursday, Nov. 18, 2021
Time: 11:00 a.m. EST

As soon as they arrive in Ontario and start to settle, new francophone Canadians are eager to explore and discover their new country and meet with the various communities across Ontario. From being a simple visitor to your region to becoming a resident and an employee, how do you get ready to attract and welcome these new Canadians to your Northern destination?