Florence Carlson Celebrates her 99th Birthday!
We at the NOTO Office wanted to take a moment to acknowedge and celebrate Florence Carlson one of the founders of Viking Island Outposts and a true pioneer in our industry. Today she is celebrating her 99th birthday!!
I had the great pleasure of seeing Florence at the Red Lake Sportsmen's Dinner and Dance this past spring and she is quite a lady.
Seen below Florence is enjoying visiting with friends and family at the Spring event. She was proudly accompanied by her son Hugh and daughter in-law Enid. Florence was simply glowing in her cheerful pink outfit that night.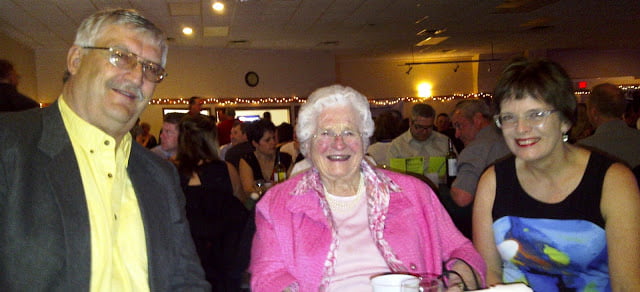 NOTO had the great pleasure of honoring Florence in 2004 when she was awarded the Rozelle Hughes Award at our annual conference. She is a true inspiration for many of us in this industry and it is an honor to know her.
From all of us here at NOTO, we wish you a wonderful 99th Birthday Florence and many more exciting years to come!!