What is Experiential Tourism?
Experiential tourism is a form of tourism in which people focus on experiencing a country, city or particular place by actively and meaningfully engaging with its history, people, culture, food and environment.
Creating a Unique Experience:
Focus on your strengths – base your product on what natural and cultural resources you have that others don't.
Plan all stages of the project in detail before commencing, including marketing, product evaluation and redevelopment. Plan for and monitor budgets tightly.
Be very clear about what you want to achieve – profit, local employment, community pride and involvement, and conservation of the resource.
Consult and involve the local community in the creation of the experience.
Take the time to do the project well. Do not rush the stages of consultation and product development. Innovation does not happen overnight.
Know your target audience. Plan and tailor the product from the consumer's needs and perspectives. Undertake market research.
Interpretation should be fun, encourage involvement, stimulate the senses, and pose a challenge. Plan all activities to reflect a strong theme.
Choose methods that involve and engage the senses. Face to face interpretation is the most effective.
Collaborate with experts in your local community.
Train the interpretative team to ensure consistency of product and messages.
Standards for Experiential Tourism
This list is in the form of objective sentences. Each can be a consideration for further research.
People create meaning through direct experience.
The experience includes the people met, the places visited, the activities participated in and the memories created.
The experience includes pre-departure trip planning and post-trip follow-up.
Experiential tourism draws people into local nature, culture and history.
Experiential tourism is low impact, low volume, and high yield.
Experiential tourism is very personal, unique and individual for each visitor.
Quality, memorable visitor experiences are a shared outcome between the visitor and the experience provider.
Experiential tourism opportunities allow for personal growth and reflect the values and interests of the individual visitor.
Experiential tourism provides diverse experiences that match the visitor's interests and provide a sense of personal accomplishment, thereby creating their own unique memories.
The desired outcome of experiential tourism is to achieve a complete participatory experience that provides new knowledge and authentic experiences.
Experiential tourism opportunities encourage the meeting and coming together of different cultures, their problems and potential.
Cultural elements are shared in an atmosphere of traditional ways of life.
Experiential tourism shows rather than describes.
Experiential tourism opportunities expand personal horizons.
Experiential tourism opportunities should provide personal enrichment, enlightenment, stimulation, and engagement as motivators.
Experiential tourism attracts people to places.
Experiential tourism attracts markets to merchandise.
Experiential tourism engages all five senses.
Experiential tourism opportunities include learning a new skill or engaging in a new activity.
Experiential tourism includes "the story of the place."
---
Eco Tourism
Ecotourism caters to tourists wishing to experience the natural environment without damaging it or disturbing its habitats. It is a form of tourism involving responsible travel to natural areas, conserving the environment, and improving the well-being of the local people.
Principles of Ecotourism:
Appropriate Resources
Benefit local communities
Contributes to conservation
Educational /Experiential
Ecological compatible facilities
Highest consumer satisfaction
Truthful and ethical marketing
Socially responsible
Involving the Local Community Through Participation:
Local participation in the project cycle
Create stakeholders
Linking benefits to conservation
Distribute benefits
Identify community leaders
Bring about change
Understand site specific conditions
Monitoring and evaluating progress
For more information on ecotourism, visit the links below: 
Community Tourism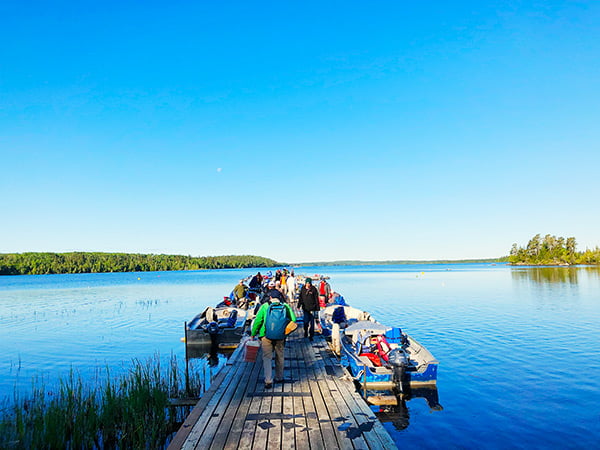 Community tourism (sometimes called community-based tourism) is a form of tourism which aims to include and benefit local communities. For instance, locals might host tourists in their village, managing the scheme communally and sharing the profits. There are many types of community tourism project, including many in which the 'community' works with a commercial tour operator, but all community tourism projects should give local people a fair share of the benefits/profits and a say in deciding how incoming tourism is managed.
In response to the challenges and uncertainties induced by globalization and other factors, many rural communities in Atlantic Canada and throughout the world have adopted tourism development as an alternative approach in hopes to achieve some sense of sustainability.
Rural communities rely on their culture and cultural symbols, including artifacts, music, folklore, architecture, heritage and geographic landscapes, as a focal feature for tourism development. In fact, local culture, generally defined as the longstanding traditions, customs and values of a community, has become a dominant attractor for drawing tourists to Canada and elsewhere. Many of these small rural communities have a cultural richness and uniqueness that are frequently depicted in various tourism product offerings, marketing publications and media. In short, local culture is increasingly being objectified and modified to entice tourists to specific destination areas. In tandem to providing new sites of consumption, we are seeing a new wave of demand – cultural tourists – eager to consume a variety of new and novel cultural experiences.
Cultural and heritage tourism are continually gaining momentum as approaches to tourism development. These are, generally, understood as type of special interest tourism where heritage or cultural objects, for example, museums, ancient buildings, sites and artifacts, are prepared and presented for visitor experience.
Some Principles in Community Tourism are:
This form of tourism should be run with the involvement and consent of the local communities. Local people should be the planners, organizers and overall managers of these tours.
A fair share of the profits should go back to the community.
It involves communities rather than individuals.
Be environmentally sustainable
Respect traditional culture and social structures.
Have mechanisms that helps communities deal with the impact of tourist
Keep groups small to minimize social/environmental impacts
Brief tourist before the trips about appropriate behavior
Do not make local people perform inappropriate ceremonies.
Leave communities alone if they do not want tourism.
Community tourism offers an excellent opportunity for outfitters in the Northern Ontario region to team up and create extended itineraries for their operations. The added advantage is that it does not have to interfere with the core product offering but gives the added advantage of having a wider choice to ensure guest of all preferences are made happy.
The process to initiate action for community tourism development can come from any individual or organization. NOTO will work directly with any organization, business or individual to provide guidance and technical support to get the process of community tourism development going.
The introduction of the new tourism regions will bring about some changes to the development dynamics.
Culture and Heritage Tourism
Culture, Heritage and the arts has long been an appeal to Tourist destinations. However, in recent years 'culture' has been rediscovered as an important marketing tool to attract those travelers with special interests in heritage and arts.
Cultural heritage tourism is the fastest growing segment of the tourism industry because there is a trend toward an increase specialization among tourists (Prof Keith Hollingshead). This trend is evident in the rise in the volume of tourists who seek adventure, culture, history, archaeology and interaction with local people.
Cultural heritage tourism is important for various reasons; it has a positive economic and social impact, it establishes and reinforces identity, it helps preserve the cultural heritage, with culture as an instrument it facilitates harmony and understanding among people, it supports culture and helps renew tourism (Richards, 1996).
In the design to research and develop cultural heritage tourism in Region 13, a number of objectives can be met within the context of sustainable tourism. This will depend on the consultations and expressed desires and concerns of the local community stakeholders.
The conservation of cultural resources, accurate interpretation of resources, authentic visitors' experience, and the stimulation of the earned revenues of cultural resources are all objectives that can be kept in mind. Cultural heritage tourism development will not only be concerned with identification, management and protection of the heritage values but it will also be involved in understanding the impact of tourism on communities and regions, achieving economic and social benefits, providing financial resources for protection, as well as marketing and promotion
Heritage tourism involves visiting historical or industrial sites that may include old canals, railways, battlegrounds, river markings and so forth. The overall purpose is to gain an appreciation of the past. It also refers to the marketing of a location to members of a Diasporas who have distant family roots there.
Another possible form involves religious travel. Heritage Tourism can also be attributed to historical events that have been dramatized to make them more entertaining. Heritage tourism focuses on certain historical events, rather than presenting a balanced view of that historical period. Its aim may not always be the presentation of accurate historical facts, as opposed to economically developing the site and surrounding area. As a result heritage tourism can be seen as a blend of education, entertainment, preservation and profit.
Road Map to Cultural Heritage Tourism Development
Cultural Heritage Tourism
"Travelling to experience the places and activities that authentically represents the stories and people of the past" (definition adopted from the US National Trust for Historic Preservation).
How do you make this happen?
Four Steps to Success!!!!
Assess Your Potential
Plan and Organize
Prepare for Visitors, Protect and Manage Your Natural, Cultural and Heritage Resources
Market for Success
Assess your Potential
Evaluate your assets in five main areas:
Attractions – current and potential, the natural, cultural and historic attractions your area has to offer.
Visitor services
Organizational capability
Protection
Marketing
Plan and Organize
Two main resources for planning and organizing are:
Human – gain the support of the local business sector and local government
Financial – Prepare a good financial plan, it is critical for your short and long term effectiveness
Prepare, Protect and manage
Prepare – readying your historical resources by preserving their historical integrity.
Protect – to ensure that your tourism cultural heritage resource has a long and productive life.
Manage – A well managed cultural heritage tourism resource is one that balances competing considerations.
Market for Success
To draw people and money into your community, develop a multi-year, multi tiered plan!!
Include these four components in your marketing plan:
Public Relations
Advertising
Graphic materials
Promotions
http://www.mtc.gov.on.ca/en/heritage/heritage_toolkit.shtml
http://www.mtc.gov.on.ca/en/publications/Ontario_Cultural_and_Heritage_Tourism.pdf
Websites and Social Media
Social media is the use of web based and mobile technologies to turn communication into interactive dialogues. Social media can take on many different forms including internet forums, web blogs, social blogs, micro blogging, wiki, podcast, photographs and pictures.
Six Different types of social media
Collaborative projects – (e.g. Wikipedia)
Blogs and microblogs – (e.g. Twitter)
Content communities – (e.g. YouTube)
Social networking sites – (e.g. Facebook)
Virtual game worlds – (e.g. World of Warcraft)
Virtual social worlds – (e.g. Second Life)
Social Media is used to:
Communicate
Blogs – (e.g. Blogger)
Microblogging – (e.g. Twitter)
Location based social networking – (e.g. Facebook)
Collaboration and Authority Building
Wikis  – (e.g. Wikipedia)
Social Bookmarking – (e.g. StumbleUpon)
Content management systems – (e.g. WordPress)
Multimedia
Photography and Art sharing – (e.g. Instagram)
Video Sharing – (e.g. YouTube)
Music and Audio sharing – (e.g. Pandora Radio)
Reviews and Opinions
Product Reviews – (e.g. Epinions.com)
Business Reviews – (e.g. Customer Lobby)
Community question and answer – (e.g. Yahoo!Answers)
Entertainment
Media and entertainment platforms – (e.g. YouTube)
Virtual Worlds – (e.g. Second life)
Game Sharing – (e.g.  Kongregate)
Brand Monitoring
Social media measurement – (e.g. Statsit)
Features of Social Media
Quick to Start. You could launch a Facebook page today or get a blog going in a few days.
Low Cost. You can get started in social media and blogging for very little or no money. They are among the most cost-effective methods of reaching your audience.
Instant Interactivity. Both blogs and social media can give you nearly instant market feedback – good or bad. We get all kinds of feedback through the comments on our blog; people also leave reviews and other comments for us on Facebook, LinkedIn and other social media channels.
It's the Search Engines, Silly. Surveys indicate that 90% or more of people begin their purchasing process in search engines. Blogs and social media make it more likely that your prospects will find you online when they search.
Inbound Marketing. NOTO is a big fan of inbound marketing! Outbound marketing is telemarketing, direct mail, cold email blasts , TV and print ads – all the things that buyers tend to block out more and more.  Social media and blogs are essential inbound marketing tools.
First Mover Advantage. For blogs and social media, there is an advantage to moving first. If you don't jump into the conversation, your competitors will (if they have not already) and then you're fighting an uphill battle to become influential in these online conversations. Start now to claim that first-mover advantage.
Tourist Outfitters Website Best Practice Guide
A quick reference tool prepared to guide the creation of websites for outfitters and other categories of tourism websites. This is meant to act as a quick guide and will serve very well as a checklist for outfitters who are in the processing of designing and developing a new website to optimize their marketing. It is also a very relevant tool for improving your website.
A Guide to Building Successful Packages for Tourism Suppliers…
This manual was compiled intending to act as a resource for operators who are ready to invest the time, trust and energy to build packages for visitors to Ontario and get them to the market. The manual moves beyond the theoritical and delve into 'the now what' stage.
Many examples are presented in this handbook. It is very practical. It provides you with the tools and process to design new combinations of experiences that will attract new or more customers to your operation.